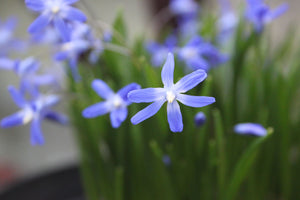 Tinnisburn Plants now home to the National Plant Collection for Scilla (Chionodoxa)
Protecting our horticultural heritage
Tinnisburn Plants is home to the UK and Ireland National Plant Collection of Scilla (Chionodoxa). Also known as glory-of-the-snow, these delicate and delightful early spring flowers grow from bulbs to form a carpet of colour, helping to chase away the whites and greys of winter.
The common name conjures the picture of these blue, white or pink flowers bursting through the melting snow, typically in alpine regions. Scilla (Chionodoxa) is native to the mountains of the eastern Mediterranean, particularly Crete, Cyprus and Turkey. It's become a popular garden ornament, and Helen is hoping to further promote it within in the UK.
National Plant Collections
Taking on a National Plant Collection is a significant responsibility. Collections are certified by Plant Heritage, a charity committed to conserving the rich diversity of garden plants. Helen has taken over a Collection set up by Dr Alan Dickinson, who sadly died a few years ago.  
There are over 650 Collections, with each being home to a specific variety. The existence of Collections makes it easier to document and protect a huge variety of plants, some of which are quite rare. 
It's possible to see the Collection of Scilla (Chionodoxa) in its spring glory by making an appointment to visit Helen at Tinnisburn Plants. Unfortunately, the flowers have gone by the time the nursery opens around Easter time. 
---